Bharatiya Janta Party, BJP won 103 seats and fell short of the majority, the golden figure of 112. As soon as the counting got over and the results were declared BJP, Congress and Janata Dal (Secular) rushed to Karnataka Governor Vajubha iRudabhai Vala's residence to stake its claim to form the government.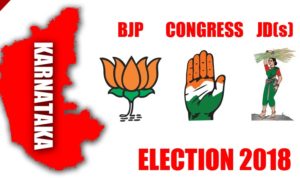 Sonia Gandhi who was desperate to form the government reportedly rang up HD Kumara Swamy and offered support to the JD(S), with him as the Chief Minister of the state
Almost immediately Karnataka Chief Minister Siddaramaiah resigned and submitted his resignation to the Governor
The Modi wave is still riding high and thus BJP was able to win a major 103 seats. Congress was desperate to continue in power in Karnataka and with their shrinking national appeal suffered as they were able to garner only 78 seats by 11:20 pm.
The now-former Chief Minister of Karnataka Siddaramaiah lost from Chamundeshwari.
JD(S) had won 37 seats, whereas Karnataka Pragnyavantha Janatha Party, Bahujan Samaj Party, and independents had won one seat each.
Everyone is waiting with high expectation on whether the Governor VajubhaiVala will invite BJP to form the government with JD(S) or whether he will invite Congress to form an alliance with JD(S).
Elections were held for 222 seats on May 12th.
BJP's chief ministerial candidate B S Yeddyurappa accused Congress of trying to win power unfairly. He said he would stake claim to form the government.
A somber-looking Yeddyurappa said the people of Karnataka had rejected the Siddaramaiah government "lock, stock and barrel". "The Congress is trying to subvert the popular mandate and come back to power through the back door. People of Karnataka will never accept this," he said.
The Karnataka Assembly has 222 seats and a party or an alliance needs 112-seats to stake a claim form the government..
ALSO READ – LALU YADAV CONVICTED IN FOURTH FODDER SCAM CASE-SAYS ITS NITISH-MODI GAME