Fodder scam: Lalu Yadav convicted in fourth case
RJD Chief & former Bihar CM Lalu Yadav was convicted in the fourth fodder scam case, on Monday. The case was related to the fraudulent withdrawal of around Rs 3.5 crore from the Dumka treasury by Animal Husbandry Department officials between 1991 and 1996. He has now been convicted in four fodder scam cases with two more cases still at the trial stage.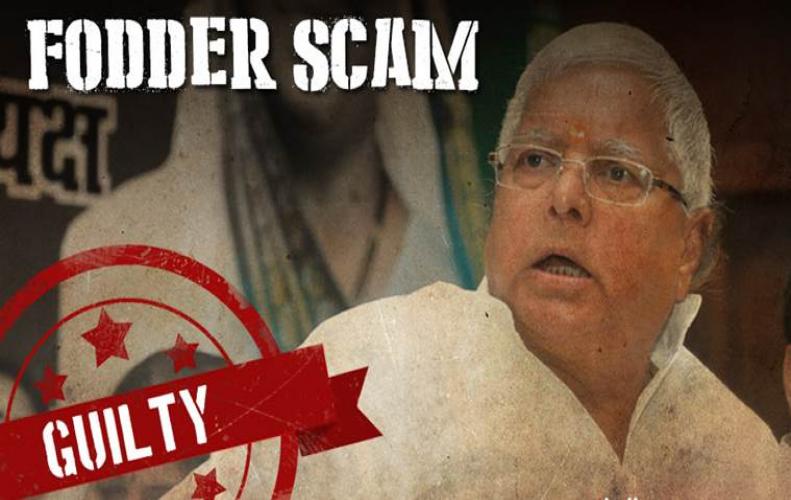 Jagannath Mishra, also former Bihar CM, was acquitted. Of the 31 accused, the court has convicted 19 and acquitted 12.
"Do we need to say anything more to establish that these cases are politically motivated? It is because the BJP and its leaders know that they can't fight Laluji, who is their main rival, and that is why they resort to such tricks," said RJD national spokesperson Manoj Jha.
Lalu Yadav was convicted and sentenced to 5 years in jail in the first fodder scam case in 2013, which barred him from elections for 11 years.
Four other politicians – Jagdish Sharma, former chairperson of the Public Accounts Committee, R K Rana, former RJD leader and MLA, Vidyasagar Nishad, former Bihar minister and a former MLA Dhruv Bhagat were acquitted by special CBI Judge Shivpal Singh
Also, Read – HOW WILL THE OPPOSITION TACKLE MODI POWER IN 2019
The Court had earlier kept the judgements on Lalu Yadav and a few others in abeyance as they were not in court. Towards the end of the proceedings, the court pronounced the judgements, observing the lawyers were in court and the accused were in custody.
Lalu Yadav who was admitted in Rajendra Institute of Medical Sciences, following health concerns was brought to court about 30 minutes later.
RJD national spokesperson Jha stated that all the litigations against Lalu Yadav were politically motivated. He also stated that they respected the judgement of the court but would approach the High Court. Jha seemed to be confident that the verdict would be in Lalu Yadav's favor. He said the PM Narendra Modi ,was worried that Lalu Yadav would get a resounding verdict in the High Court. He also stated that the BJP was worried and tense with the proceedings.