Kolkata Knight Riders defeated Rajasthan Royals by 6 wickets at the Eden Gardens in Kolkata in the 49th match of the VIVO Indian Premier League (IPL) 2018.
Also, Kolkata improved their ranking and now are on number 3 in the VIVO IPL points table.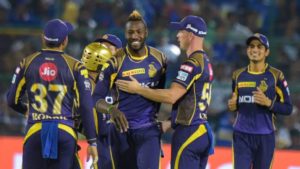 Kolkata batsman Chris Lynn played a crucial and critical knock for KKR and then Dinesh Karthik finished off the innings in style
Kuldeep Yadav bowled well and picked up 4 crucial wickets for Kolkata which included Jos Buttler and Ajinkya Rahane. Kuldeep was the one who with his splendid bowling spell derailed Rajasthan Royals after they had a flying start.
This match was critical for Kolkata as a loss in this match would mean a slip in the points table and a dim chance of making the playoffs.
Kolkata won the toss and put Rajasthan in to bat first and selected to field. For Rajasthan Rahul Tripathi and Jos Buttler were in fine form and blasted the bowlers here there everywhere. Kolkata at that stage looked helpless in front of the two batsmen.
Kolkata was being hit for runs and were desperate for a wicket when Tripathi was sent back to the pavilion.
Suddenly the game started shifting Kolkata's way as skipper AjinkyaRahane, Jos Buttler and Sanju Samson all went in quick succession.
This was a big blow for RR as they started with 63 for 1 and by the 12th over were 96 for 5.
Kuldeep Yadav bowled brilliantly picking up 4 crucial wickets and Rajasthan were helpless in front of the dominating Kolkata bowling attack.
KKR batsmen Sunil Nairne blasted 21 runs of the first over but then was quickly dismissed. Kolkata were chasing a decent 143 runs against the Royals.
Lynn started with caution and kept adding runs in his partnership with Karthik. Sodhi bowled well and kept the batsmen uneasy and guessing. The slow and steady approach paid off for Kolkata and the batsmen soon changed gears and hit some brilliant boundaries.
Buttler was batting well but fell a few runs short of his fifty, while Karthik carried on as KKR sealed a victory.
Buttler fell a few runs short of his fifty but Karthik carried on. In the end, KKR sealed the victory at home.
ALSO READ – ROYAL CHALLENGERS BEAT KINGS XI COMPREHENSIVELY BY 10 WICKETS