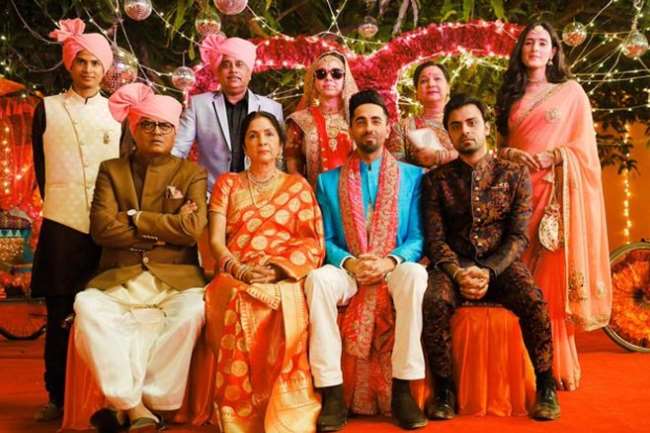 New Delhi  On Tuesday, on the fifth day of release, Ayushman Khurana's film Shubh Mangal was not very careful. The film's earnings have been falling steadily. 
Shubh Mangal Savdhan, released on February 21, has collected around 3 crores on the fifth day of release i.e. on Tuesday. Although it is an estimated amount. Final figures may be altered. Earlier on Monday, the film had a collection of 3.87 crores, with which its four-day net collection was 36.53 crores.
Ayushmann Khurrana's films did well in the opening weekend due to the trust built in the audience. On the first Friday, the auspicious Mars more careful earned 9.55 crores, while on Saturday the collections increased and collected 11.08 crores. On Sunday, earnings also increased and collections reached 12.03 crores. 
At this speed, Shubh Mangal will be able to earn 45 crores more easily in the first week. If you compare the collections of this film of Ayushman with the rest of the films released this year, then the condition of more careful Shubh Mangal is better. The film has left behind only a week's collections of several films released this year within 5 days.
Karthik Aryan and Sara Ali Khan's Love Aaj Kal, which came on February 14, had deposited 36 crores in the first week. Saif Ali Khan's Jawani Jaanman had deposited 20.21 crores in the first week. Kangana Ranaut's Panga earned Rs 18.21 crore in the first week. At the same time, Deepika Padukone's Chhapak did a collection of 28.38 crores in the first week.
Like the previous films of Ayushman Khurana, Shubh Mangal prolongs the list to be more careful in which he picks up the topics considered taboo. The film talks about the subject of homosexuality, but in Ayushmann style.
Homophobia has been hurt in the film with Humer. The film stars Jeetendra Kumar or Jeetu Parallel in the lead role alongside Ayushmann. The audience recognizes Jeetu through a web series. Gajraj Rao and Neena Gupta play the roles of the parents of Jeetu's character. The film was also rated well by critics. Everyone praised Ayushman Khurana's work.