A day after Karnataka Governor Valubhai Vala invited BJP to form the government in Karnataka, B S Yeddyurappa was sworn in as Chief Minister of Karnataka on Thursday morning.
BS Yeddyurappa was elected as the party's legislative leader earlier on Thursday took oath at 9 am today.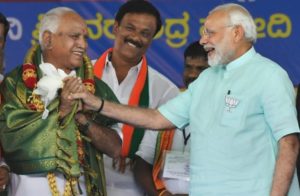 BJP emerged as the single largest party in the Assembly and secured 104 seats from the 224 seats in the member House. BJP has to prove its strength on the floor within 15 days according to a report.
The Congress winning 78 seats is in alliance with JD(S) which has 37 seats and is trying to keep BJP out of power.
Congress and JD(U) have in total 115 MLAs in their kitty and had met the Governor on Thursday to stake a claim and to form the government.
After the Governor's move, Congress and JD(U) approached the Supreme Court on late Wednesday night. The Supreme Court, however, refused to stay BJP's BS Yeddyurappa's swearing-in but it made it clear that the government formation would depend on the final verdict in the case.
BSY is Chief Minister. Now what?
What happens next?
Following the oath-taking ceremony, Yeddyurappa is expected to go to the VidhanaSoudha and take charge of the state as a one-man cabinet.
He will announce a waiver of all loans of farmers shortly after taking charge as promised in the BJP manifesto, sources close to the BJP leader told
Yeddyurappa had promised to waive off farm loans up to Rs one lakh within 24 hours of assuming office as the chief minister in the run-up to the polls
ALSO READ – KARNATAKA ELECTION RESULT 2018