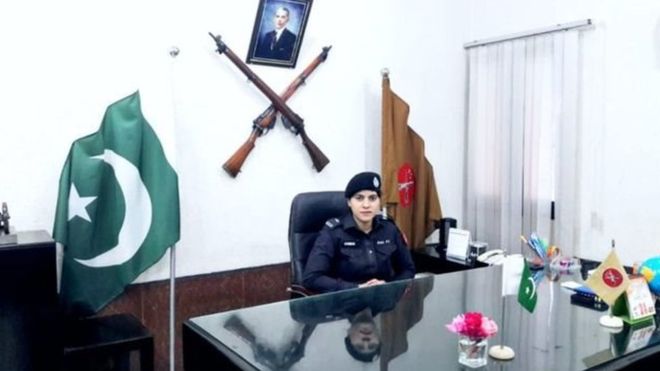 Hina Munawwar says that as a woman, she does not see any difficulty in fulfilling her duties. Whether they have to go in the field of work in the office.
Hina Munawwar of Faisalabad, a city in Punjab province, says that it is a matter of pride for her to be appointed to the Frontier Constabulary Swat as she can do a lot for the betterment of the area.
After passing the CSS exam in Pakistan, seven women posted in the police service will be posted in the Frontier Constabulary for one year. Two of them have been posted in Khyber Pakhtunkhwa, four in Islamabad and one in Gilgit.
The rank of these women is mainly of ASP but in Frontier Constabulary they are called ADO or Assistant District Officer.
Hina Munwar completed her MPhil Development Economics after which she passed the CSS exam and gave priority to the Police Service and was appointed as an officer in the Police Service of Pakistan (PPS).
She said that she is happy that she is the first woman officer to lead PPS in the district.
Hina told the BBC that as a woman, she did not feel that she could have any difficulty in the role as she came to the region with her happiness and desire.
Not a single woman in the frontier constabulary
She said that she will do something better for the welfare of the soldiers of the Frontier Constabulary in Swat with an effort to fulfill their responsibilities.
According to him, it would be his priority to make the security establishment better and maintain discipline.
In response to a question, Hina Munawwar said that Pakistan was badly affected by extremism and the situation in Swat was very tense but now the situation has improved and it is expected that there will be further improved.
Hina is married and mother of a baby girl. He said that his profession has its needs. Balancing your home and family with them so that no one is affected and balancing it is a challenge.
Rehmat Khan Wazir, a retired officer who was deputy commandant in Frontier Constabulary and Additional Inspector General of Police, told the BBC that Frontier Constabulary had been a traditional police force, whose main task was to monitor the border between tribes and refugee settlements but now made major changes Are going
What do girls think of Khyber Pakhtunkhwa
Terrain affected by extremist incidents

Khan said that with the coming of women to the top positions in Frontier Constabulary, its working style is expected to improve.
According to him, women can do official work better in frontier constabulary besides personnel records and salary records.
He said that there are no women soldiers in the FC, but now women officers are coming in large numbers and since there is police duty, women have to bear heavy responsibilities in an emergency.
Most of the districts of Khyber Pakhtunkhwa, including Swat, have been badly affected by extremist incidents for some time.
During the war against extremism, civilians and other military personnel and officers were targeted. A total of 360 soldiers, including four Frontier Constabulary police officers, were targeted.
The Frontier Constabulary was established in 1915 with the integration of the Border Military Police and the Samana Rifles. The task of these forces during the British was to protect the border.
This force was originally created to protect the tribal areas bordering Khyber Pakhtunkhwa but has been deployed in various parts of Pakistan.