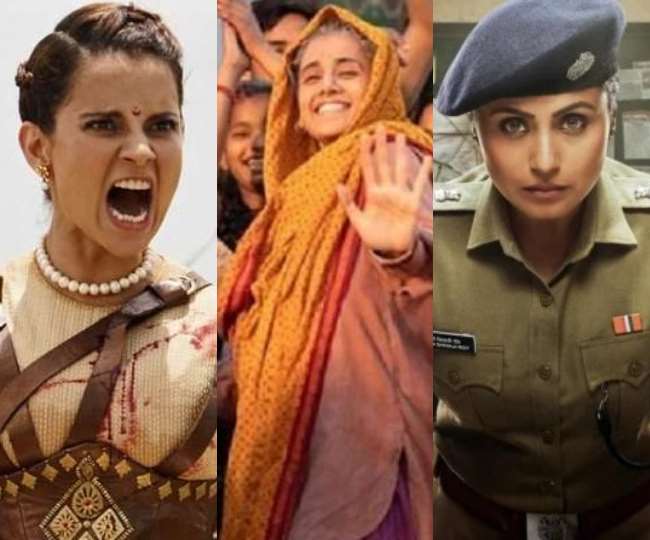 New Delhi There are just a few days left for the year 2019 to end. Like every year, this year also saw many Bollywood films which won the box office. However, like every year, this year too many films came that failed to make a place in the hearts of the people. Some films were remembered because of their heroines and some due to their heroines.
This year, many female-oriented films were released on the big screen which proved that the hero is not needed to make the film a hit. Today, we will tell you about some of the female-oriented films which were a hit or discussed this year.
Manikarnika: The Queen of Jhansi
Released on 25 January 2019, the film had Kangana in the lead role. Kangana played the role of Rani of Jhansi in this film. Not only this, the film was also directed by Kangana herself. In the box office case, 'Manikarnika' did not show anything special on screen, but Kangana's acting was very strong. 
Ek ladki ko dekha toh,esa lga:
Sonam Kapoor played the role of lead actress in this film, released on 1 February 2019. At the same time, Anil Kapoor played his father. In this film Sonam touched a story that was not easy to show on screen. Sonal was lesbian in the film. Through the film, he highlighted the life of a lesbian.
The Zoya Factor:
Sonam Kapoor also played the role of lead actress in this film released on 20 September 2019. The entire story of this film revolves around a girl who considers herself unlucky. Dulquir Salman was in the lead role with Sonam in this film.
Sand ki ankh:
Released on 25 October 2019, the film featured Taapsee Pandey and Bhumi Pednekar as older women. Taapsee and Bhumi were made in this film. He was also opposed by some celebs about their roles in the film. The story was based on the real life of two granddaughters who had learned to shoot at their waning age and brought India a medal.
Mardani 2: 
The film is being released on the big screen two days later i.e. on 13 December. Rani Mukerji is in the lead role in this film. The special thing is that there is no hero in this film with him. In the film, Rani Mukherjee becomes a police officer who tackles a case of sexual abuse.