Petrol prices touched a high of Rs. 74.21 a litre to hit a new 55 month high on Saturday in New Delhi. The Diesel prices also hit an all-time high of Rs. 65.46 in the capital.
The state-owned oil firms increased the petrol rates by 13 paise per litre in Delhi and 15 paise in each state.
It was in September 2013 when the prices surged this level. The price of petrol then was Rs. 76.06 a litre.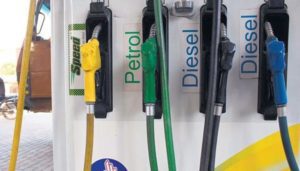 The Saturday petrol price costs Rs. 74.21 in Delhi, Rs. 76.91 in Kolkata, Rs. 82.06 in Mumbai and Rs. 76.99 in Chennai, as per the Indian Oil Corporation (IOC) website.
The Petrol and Diesel prices fluctuate daily as the state-owned oil companies which include Indian Oil Corporation, Bharat Petroleum Corporation and Hindustan Petroleum Corporation, in June last year had renounced the 15-year practice of revising rates on the fortnightly basis and adopted a daily prices revision system to reflect changes.
The excise duty has been raised nine times between Nov 2014 and Jan 2016, by the central government, to shore up finances despite the fact that global oil prices to which domestic prices are linked have not risen that much, during this period.
On petrol, the duty was hiked by Rs. 11.77 per litre and on diesel, it was raised by Rs. 13.47 a litre in the 15 months that helped government's excise mop up more than double to Rs. 242,000 crore in 2016-17 from Rs. 99,000 crore in 2014-15.
The central government had reduced the excise duty by Rs. 2 a litre in October 2017 when petrol prices touched a high of Rs. 70.88 per litre in New Delhi.
Following this, diesel prices came down to Rs. 56.89 per litre and petrol to Rs. 68.38 per litre.
However, a global rally in crude prices pushed domestic fuel prices far higher than those levels.
ALSO READ – AMAZON PRIORITISES INDIAN MARKET, SAYS FASTEST GROWING MARKET