You were born to be happy…happiness is your true nature…if you are egoless you will yourself become happy…look at children…they don't need a reason to be happy…they are living…pulsating…vibrating happiness…
We have a lot to learn from nature and children…we have lost the art of innocence…following our worldly pursuits we have sacrificed our true nature thinking that money and fame will give us happiness…but when we find success…we find it to be empty…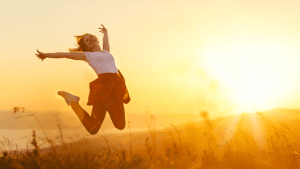 So realize deeply that happiness is your true nature…and tune into the universal abundance to tune into joy and bliss…ecstasy and happiness….
To need not look for happiness outside…you already have it within you…you need to rediscover it….uncover it…you have to peel the layers of conditioning that society has imposed on you and will find that happiness is bubbling in your heart….
You were born crying…the real challenge is to die laughing…only then can you say that your life has been a success….only then can you say that your life was worth it…the seed of happiness is within you…you need to nurture it and one day it will blossom and bloom.
God has already gifted you every reason to be happy…a baby's giggle….a soft breeze…a rainbow…a bird of paradise….flowers…we have been gifted with every possible reason to be happy and still we are unhappy and sad…
The basic cause of our unhappiness is that we think it is out there somewhere…we forget that we are full of it…we just have to look deeper…
One day a beggar was sitting on a old box by the road and asking for alms…one passerby asked him…. "for how long have you been sitting on this old box…have you ever seen what is in it…? " the beggar said that " what will it have within. It is old, dusty and broken…" but on the stranger's insistence, he opened the box to find it full of gold coins….
You are not a beggar…you are sitting on a box filled with gold…you just have to open your heart and become open and tune into the universal abundance and your life will become full of celebration, dance, happiness and abundance…
Rediscover your happiness now…you don't need to achieve it…you need to receive it and the more open you become to existence and the more you value your uniqueness the more happier, deep and enriched your life will become…
ALSO READ – SLOW DOWN AGEING THE AYURVEDA WAY