India's largest IT outsourcing company, TCS (Tata Consultancy Services) on Monday, created history by becoming the first company in the country to reach the $100 billion market capitalization (m-cap) mark.
The shares of the IT major were hitting an all-time high and were trading at 4% above the previous closing mark as Rs. 3,545 respectively at 10:30 am on the Bombay Stock Exchange.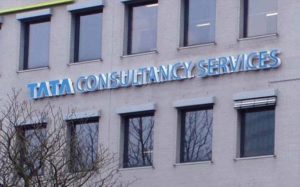 By definition, market capitalization is the value of a company that is traded on the stock market, calculated by multiplying the total number of shares by the present share price.
The market value of Tata Consultancy Services stood at Rs. 6,79,332.81 crore ( $102.6 billion) by 10:30 am on Monday.
TCS was on the verge of reaching the milestone on Friday as the m-cap stood at slightly above dollar 99 billion. The stock price of Tata Consultancy Services jumped 6 percent on Friday.
After TCS posted a 4.5% rise in its Quarter4 net profit, came the rise in the TCS scrips fortune.
In the Jan-Mar quarter, the company reported a net profit of Rs. 6,925 which was 4.57% more than the Rs. 6,622 crore profit posted in the same period last year. Moreover, the company announced a 1:1 bonus for all its shareholders. The last 1:1 bonus was shared in 2009.
The company contributed to 85 percent to the Tata groups profit reported a healthy revenue growth of 8.2% at Rs. 32, 075 crore in the Jan-Mar period.
Edelweiss Research said in a note "With robust deal wins and green-shoots in banking, financial services and insurance (BFSI) sector, there is definite possibility of double-digit revenue growth. With growth acceleration, scale up in digital and support from currency, margins are ready for uptick as well, implying return of double-digit revenue/earnings growth after 3 years".
ALSO READ – PETROL AND DIESEL TOUCH ALL TIME HIGH IN 55 MONTHS