A meeting between Prime Minister Narendra Modi and Chinese President Xi Jinping is being planned in the Chinese city of Wuhan on April 27 and 28. This meeting comes as a breakthrough in the ties of the two emerging world powers that were hit by a 73 days military standoff by the countries militaries in Doklam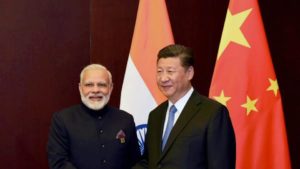 The leaders are surely wanting to impart momentum to their mutual relationship and the meeting seems to be evidence of the same attitude.
It was after the talks between foreign minister Sushma Swaraj and Chinese foreign minister Wang Yi, that the decision of the meeting was made public.
Hinting at the sanctions and actions of US President Donald Trump's regime, Wang referred to the importance of supporting the World Trade Organization mechanism. He also described the forthcoming meeting as a new starting point in the China India relationship.
The scheduled meeting which was a result of high-level interactions between the two countries government was described by officials form both sides as a milestone in the Sino-India relationships, which had met roadblocks and difficulties in the past on some issues like Chinas opposition to India's NSG membership and China's support to Pakistan in the diplomatic, military and economic domains.
With the successful resolution of the Doklam standoff which despite instigating statements from Chinese commentators and regrouping of PLA forces to the north has helped set the stage for more result-oriented meetings.
Nepal PM K P Sharma visited India recently and this meeting is happening post that interaction as China also played a part in the meeting.
The two leaders, Modi and Xi are meeting for the first time after the Doklam standoff where China wanted to change the status quo by building a road giving it a strategic advantage over the chicken's neck which connects the north east to the rest of India.
ALSO READ – NORTH KOREA TO STOP NUCLEARISATION