India has become a major market for Amazon and CEO Jeff Bezos confirmed this in a letter to investors saying that all the money being pumped into India is paying dividends.
Also in the letter, Bezos wrote that Amazon was the fastest growing marketplace in the country and its website was continuously being visited online and through smartphones. He also mentioned that the Amazon app was the most downloaded shopping app in India in 2017.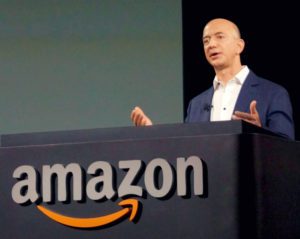 The Prime loyalty program has caught on with the Indian buyers and has seen its fastest growth in India as compared to any other country, where the company has taken it.
Bezos wrote "Prime added more members in India in its first year than any previous geography in Amazon's history. Prime selection in India now includes more than 40 million local products from third-party sellers, and Prime Video is investing in India original video content in a big way"
Bezos' comments on India come at a time when Amazon's biggest US rival Walmart is in talks to pick up as much as 55% stake in Flipkart. The deal could make it far harder for Amazon to dominate the Indian e-commerce landscape, putting in jeopardy the billions of dollars that it has already invested in the country.
Amazon has said that it will invest $5 billion in India in the coming years but Bezos and his team that that was not a fixed number and more investment will come from Amazon to India if required. In 2017, Amazon pumped in $1 billion into its Indian website which was a substantial increase from previous years.
Amazon continues to lag local rival Flipkart in terms of the gross merchandise value sold, according to independent analysts. Even though it has made claims of being the fastest growing online shopping portal in India. Flipkart surely has an edge over Amazon in fashion and electronics.
ALSO READ – FLIPKART-ASUS ENTER PARTNERSHIP; WILL LAUNCH ASUS ZENFONE MAX PRO ON APRIL 23 THIS YEAR