For the first Summit of the two Koreas in a decade, North and South Korean premier leaders met in at the heavily fortified demilitarized zone, between the two countries on Friday.
The main aim of the meeting was to end the hostile relationship between the two neighbors and it comes weeks before Kim, The North Korean Premier is due to meet US President Donald Trump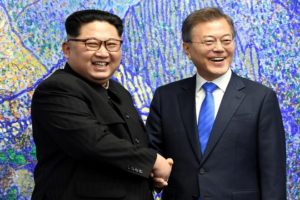 Kim was greeted by Moon at the military demarcation line making him the first North Korean leader to walk into South Korea after the war of 1950-53.
In a surprising and spontaneous move Kim invited Moon to step over into North Korea at the demarcation line before the two leaders crossed over into South Korea holding hands together.
Both were presented flowers by a South Korean boy and a girl who were residents of a village at the demilitarized zone.
Before the two leaders left for a private session, Kim signed a guestbook in the South's Peace House.
Kim wrote in Korean in the book, dating and signing the entry. "A new history starts now. An age of peace, from the starting point of history,"
The talks will be basically about denuclearization and exchanges between the two Koreas and the two will also plant a memorial tree at the border village of Panmunjom.
The White House said in a stamen that it was hoping the talks between the two neighbors brings peace and harmony in the Korean peninsula. It also stated that it is looking forward to continuing discussions with South Korea for the meeting planned of Trump and Kim in the coming weeks.
Earlier on Friday, North Korea's official KCNA news agency said Kim would "open-heartedly discuss with Moon Jae-in all the issues arising in improving inter-Korean relations and achieving peace, prosperity and reunification of the Korean peninsula."
The two Koreas are expecting to release a joint statement this Friday calling it the Panmumjom Declaration addressing denuclearization, improved relations and peace according to a South Korean official.
ALSO READ – INDIAS PRESS FREEDOM RANKING FALLS TO 138TH IN THE WORLD