Vegetable, fruits and milk prices continued to soar in several cities like Delhi, Mumbai and Chandigarh while a farmer's organization in Punjab called off its protest on Monday after a scuffle between protesting farmers and milk suppliers in several parts of Punjab.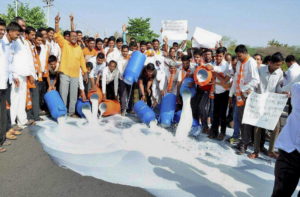 Balbir Singh Rajewal, president of a faction of Bharatiya Kisan Union (BKU), said there were reports of fracas between protesting farmers and milk suppliers in Amritsar, Faridkot, Mohali, Moga, Gidderbaha and some other places in the past two days. "I have never supported any violent stir. There was no support from the state government and the situation was going out of hand at some places. We do not want any clashes," he said, justifying the decision to call off the agitation in the state.
In many parts of Punjab tension prevailed as farmers tried to prevent other traders and farmers from carring vegetables, fruit and milk to urban areas.Traders clashed with farmers in Gidderbaha town, forcing police to intervene who then booked two farmers.
The decision to stop supplies from June 1 till June 10 was taken by farmers under the banner of Kisan Ekta Manch and Rashtriya Kisan MahaSangh to press for minimum income guarantee scheme, implementation of Swaminathan Commission report, and waiver of farmers' debt.
Elsewhere, a farmers' organisation announced plans intensify the agitation. "The government hasn't fulfilled promises it had given last year. We have no option but to intensify our protests," said AjitNawale, state general secretary, All India Kisan Sabha, one of the farmers' unions participating in the strike.
"Jaipur Dairy alone has suffered a loss of nearly Rs 1 crore as anti-social elements spilled nearly 60,000 litres of milk on roads. Twelve tankers were vandalised. Jaipur Dairy has lodged eight-nine FIRs for damaging and manhandling employees," said Om Prakash Punia, chairman, Jaipur Dairy.
"The prices of vegetables have increased by 25%-30% in the last three days because of restricted supply," a vegetable vendor at Muhana vegetable market said.
ALSO READ – OTHER HILL STATIONS AND METROS TO FACE WATER CRISES SOON