By the FY 2021, Suzuki Motor Corp., which is the parent of India's largest carmaker Maruti, aims to produce more than 35,000 electric vehicles annually when it launches its first electric cars in the country in the FY 2021.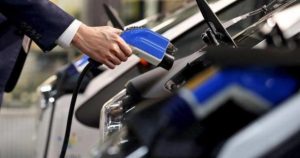 "Suzuki will venture into the electric vehicle market quite late compared to some of its competitors. That's why they wanted to make sure the foray into electric should be sustainable and gradually gain volume. The battery plant was crucial and now the management has internally decided on 30,000-35,000 units per annum from FY21," said one of the two people, requesting anonymity. A spokesperson for Maruti Suzuki declined to "give any guidance".
Their rivals Mahindra and Tata Motors are already producing electric vehicles by sourcing half of the components from foreign vendors. Suzuki on the other hand plans to create a full ecosystem which includes producing lithium-ion batteries before Maruti starts to sell electric vehicles in the country
If all goes well, Suzuki will be the first car producer in India to make electric vehicles with locally sourced batteries and other components.
"As of now, the target is to get approximately 2% of sales in 2021 but the infrastructure that Suzuki is creating for electric vehicles will help them hit the ground running. None of the other manufacturers as of now have any such plans," said the first person cited above.
Suzuki is planning to source technology from Toyota and Denso Corp. for the development of a compact and ultra-high efficiency powertrain for India and other such global markets.Suzuki also has a tripartite joint venture with Denso and Toshiba to set up a lithium-ion battery factory in Gujarat.
The EV market in India is still in its nascent stages with only 25 thousand units sold at the end of 2017. Most of these were 2 wheelers. Electric cars and 4 wheelers accounted for only 8 per cent of the total sales, according to Society of Manufacturers of Electric Vehicles.
Suzuki's plans are more ambitious. It plans to produce 60,000 electric vehicles annually starting 2020 as it seeks to benefit from its first-mover advantage. "Our electric vehicles story is poised to take off," said Pawan Goenka, managing director, Mahindra & Mahindra Ltd, in an interview to Mint on February 6, 2018.
ALSO READ – GOOGLE I/O 2018-UPDATES