Being the highest demand for water this season the demand for water in Gurugram went as high as 410 million gallons daily on Sunday. Officials predicted that the demand will further go up to 425 MGD over the next few days.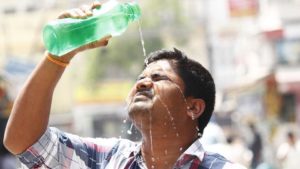 This trend shows that residents are consuming more and more water with the rising temperature as many areas in Gurugram remain dependent on water tankers to fulfill their water daily needs.
Officials from the Gurugram Metropolitan Development Authority (GMDA), the authority responsible for water supply, said water demand has increased from 385 MGD 15 days ago to 410 MGD on June 3. The GMDA said this amount should be sufficient to fulfil the water needs of the 25 lakh people residing in the city.
GMDA executive engineer Sandeep Dahiya said, "We do not have a suitable reply if there is still crisis in some parts of the city. We supply water from the two water treatment plants at Basai and ChanduBudhera to our two boosting stations at Sector 16 and Sector 51. That water then goes to the city. We are not responsible for water distribution."
The officials also stated that GMDA supplied 270 MGD water from the Basai plant and 140 MGD water from the Chandu plant on Sunday
However, five blocks — U, V, W, S and T — in DLF 3, 500 families residing in Pockets C, A and B in Sector 21 and 2,000 families in Dundahera Village have been reeling under acute water shortage for the last five days.
Ashok Jain, a resident of T Block, DLF 3, said, "Water is supplied at 7 am and 4 pm daily. At the time of water supply, electricity goes off. This is a planned action to help the water mafia so that we are forced to buy water from tankers and cans they supply. We have complained to the district administration and Dakshin Haryana BijliVitran Nigam (DHBVN) about this. We have not received a single drop of water in the last seven days."
On the allegation, DHBVN executive engineer Sachin Yadav said, "I am not aware of the electricity issue of DLF 3 but I will get it verified and fixed."
The Municipal Corporation of Gurugram is responsible for distribution of water to the entire city except in the licenced colonies. Vikas Malik, executive engineer, MCG said, "There is no fault in the water distribution line. We attend to every complaint promptly."
Like DLF 3, water shortage is perennial in Sector 21 and 22.
SN Yadav, a resident of Sector 21, said, "Nearly 200 families in C and D Block, which are located at a slightly higher altitude, are getting tanker water to suffice their need these days."
"Nearly 2,000 families living in School WaliGali in Dundahera village have not received water from supply for past four days," said Praveen Yadav, a resident of the village.
Vinay Pratap Singh, deputy commissioner (DC), Gurugram, said, "I have got some complaints regarding water mafia and have ordered site inspections soon."
ALSO READ – FARMERS PROTEST-VEGETABLE,MILK PRICES SOAR