Rajinikanth returns to the silver screen with Kaala and fans are super thrilled. Kaala which is directed by Pa Ranjith is hitting the theaters tomorrow.
There have been some issues of the release of the film in Karnataka, however the team is hopeful that the Kannada speaking fans would not have to wait too long for his cinematic appearance.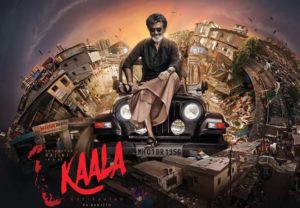 Set in Mumbai's Dharavi slum, Kaala is Rajinikanth's second gangster film after Kabali which was also directed by Pa Ranjith.
Rajinikanth who is the main protagonist of the film plays the role of a local hero a benevolent Don named Kaala Karikaalan.
Nana Patekar is playing the role of the principle antagonist in the film and plays the role of Harinath Desai who is intent on removing the slum.
Desai states that he wants to change the poverty into prosperity but Kaala doubts his intentions
The trailer of the film has already gone viral and is full of the typical Rajni swag, dialogues and mannerisms which will definitely guarantee packed halls with cheering and whistling.
The film appears to be a fantastic dramatic show as Rajni dances and laughs with his people who are concerned and care about his well-being.
Some portions of the Rajni film were shot in Mumbai and then Dharavi was created in Chennai where th rest of the film was shot.. But it 'felt like the real Dharavi,' Rajinikanth told NDTV at an event to promote the film in Chennai earlier this week. "The Dharavi setting in Chennai gave me a unique experience. It's very difficult to explain. I felt as if I was in Dharavi during filming," he said.
As per a report Kaala has already earned Rs 230 crore through theatrical and music rights that too before its release.The film needs another Rs. 280 crore to secure its place on the list of commercial hits of 2018.
Kaala also stars Huma Qureshi and Eshwari Rao and it is produced by Rajinikanth's son-in-law Dhanush
ALSO READ – VEERE DI WEDDING GOING STRONG AT THE BOX OFFICE