On Friday 100 people were killed after a Boeing 737, a domestic passenger plane crashed. The plane was carrying 105 passengers which included 5 children and 9 crew. The plane was traveling from Havana to Holguin when it crashed shortly after takeoff.
Miguel Diaz-Canel, the Cuban president was quoted as saying that there were three survivors, all women who were in critical condition according to Reuters.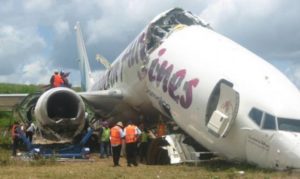 Rescue operations are taking place at the site. The fire has been subsided and authorities are busy in identifying the bodies
Boeing, in a statement, said it was apprised of the crash and was closely monitoring the situation. According to flight tracker, the aircraft was CU972, which departed from Havana at 11 am local time.
Authorities are still trying to ascertain the cause of the crash.
Boeing statement on plane crash
Expressing its condolences to the families of the deceased, the airlines released a statement which said, "Boeing extends our deepest condolences to the families and friends of those on board Flight 972 operated by Global Aerolineas Damojh on behalf of Cubana de Aviacion. Boeing also extends our best wishes for the recovery of those who were injured."
Argentina is 'deeply shaken' by the deaths
Argentina's Foreign Ministry confirmed that two of the South American nation's citizens died in Friday's crash. A statement released by the ministry stated that Argentina is 'deeply shaken' by the deaths.
Crew identified
The crew on the flight has been identified — Captain Jorge Luis Nunez Santos, first officer Miguel Angel Arreola Ramirez and flight attendants Maria Daniela Rios, Abigail Hernandez Garcia and Beatriz Limon. None of them were Cuban.
Reason for crash still unknown
The cause for the crash is still unknown. However, according to witnesses, the wreckage has been strewn across the area, and blackened parts of the fuselage are visible, reported Reuters. The plane, which took off from Havana, was heading to Holguin in eastern Cuba. It crashed 20 kilometers south of Havana.
ALSO READ – MODI VISITS CHINA ON INFORMAL TOUR