Modi and Xi Jinping have been having informal talks for the last two days. Much has been discussed and much has been decided on. On day two of the informal interaction Modi and Jinping were seen enjoying a boat ride and chatting over tea on the last day of the summit.
Amongst the topics discussed were trade co-operation and cooperation on technologies and films, also emphasizing focus on people to people contact, tourism and climate change.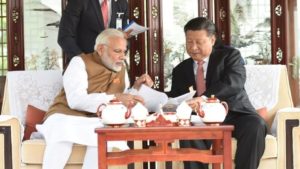 According to Foreign Secretary Vijay Gokhale, "no agreements or announcement on Summit, bilateral relationships, strategic and long-term partnership looked at during meet." 'India-China have the maturity to handle problems, special representatives will deal with border issues, PM Modi spoke on balancing trade', MEA Gokhale said.
"Co-operation on trade and technology and films, focus on people-to-people contact, discussed trade, tourism and climate change. PM Modi and President Xi also recognized the common threat posed by terrorism both reiterated their strong condemnation of a resolute opposition to terrorism in all its forms and manifestations. Both committed to cooperate further in counter-terrorism", he added.
Xi is hosting a one-on-one lunch in honor of Modi and they will conclude their talks over the lunch. The Prime Minister will return to India post the lunch.
Extensive talks were held by the two leaders on Friday amid a lot of pomp and show. Both started the summit talks at the Hubei Provincial Museum, and Xi took Modi along to show him historic artifacts.
In this unique summit there was no pressure of any sorts to strike any agreement or deal. It was simply meant for the two leaders to have candid discussion and strengthen their ties.
According to sources, India and China are planning to undertake a joint economic project in Afghanistan
Later Xi hosted a banquet in the honour of Modi at Wuhan's East Lake.
ALSO READ – LEADERS OF THE TWO KOREAS MEET