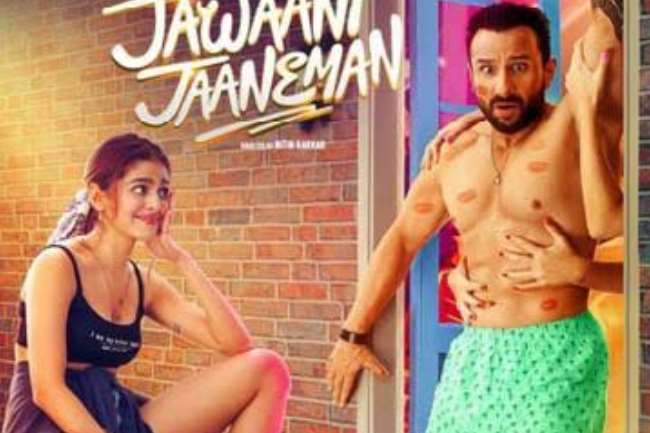 New Delhi  After playing the role of Udaybhan Rathod in Tanaji- The Unsung Warrior, Saif Ali Khan appeared in a completely different character in Jawani Jaanaman. The audience is pleased with his style, due to which Jawani Jaanaman got the opening on the first day as expected. Trade had estimated that the film would collect between 3–5 crores on the first day. As per early Friday reports, the film has taken an opening of around 3.50 crores. However, in the final figures this amount can vary. 
Jawani Jaaneman's opening has been better than Kangana Ranot's film Panga released last week. If you look at the films released in the last few years of Saif in the lead role, then Jawani Jaaneman has started better. Jawani Jaanman has done better than Chef in 2017, Kalakandi in 2018 and Lal Kaptan in 2019. In the Nitin Kakkar-directed Jawani Jaanman, Saif plays the role of a colorful-minded father who is living his own life and is unaware that he has a grown-up daughter. 
Earthquake comes to her life when this daughter approaches her, searching for her. Pooja Bedi's daughter is Alaa Furniturewala, whose film debut is in the role of Beti. Tabu plays the role of Saif's wife. The theme and treatment of the film is appealing to the audience of metros. So, the film is getting good viewership in metro cities. It is believed that the film can earn 12-13 crores in the opening weekend. 
To be successful, the film will have to collect life time around 35 crores. If we talk about the challenges in front of young lady, then there is a direct fight with Tanaji and Street Dancer in the first week. Tanaji is running in the fourth week, but the film is still drawing viewers. Street Dancer and Panga will also steal some viewers. Happy Hardy and Heer and Gul Corn along with Jawani Jaaneman have also been released, but they do not pose much threat to the film.