It is not uncommon for professionals in the IT sector to upskill and reskill themselves to climb up the corporate ladder, using online courses, non-tech professionals who want to change their careers are beginning to move away from classroom training and fulltime courses.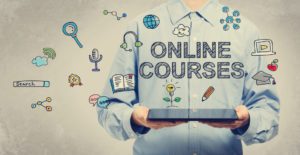 Everybody is now hooked on to the net and the demand for online courses as catapulted and become manifold.
The best part is that these professionals can take the courses while they are employed and doing their daily jobs as well.
Ishan Gupta, MD, India, Udacity was quoted as saying "While around 15 million of young professionals are entering the job market annually, only about 25 percent of them are job-ready or have required skill-sets. The launch of our foundation nano degree programme is another step towards democratizing technology education in India,"
Most of the professionals who go for online courses on platforms like Great learning and Upgradconstitute about 15 to 40 percent are professionals from non tech roles and data analytics, and they take the big chunk of the courses.
Many sales and marketing professionals are switching their roles within the same organization as the knowledge on data becoming more and more important and are switching to tech-based roles.
Mohan Lakhamraju, co-founder, Great Learning says that tech professionals who contributed to 90 percent of the total learners, now form 60 percent with non-technical roles gaining prominence.
"It is not that non-tech folks have not changed careers in the past, post gaining technical expertise, but that involved taking a break. E-learning courses have made more generalized professionals take up online courses," he added.
Upgrade which is a Mumbai based platform is finding takers for their data science programme by marketing, operations and sales professionals including doctors and research professionals.
Mayank Kumar, co-founder, Upgrade said that "These professionals constitute of an average 15 percent of every admission cohort. The trend strongly testifies how data is no longer just a career opportunity but is a way of (professional) life, helping professionals across different industries to become more intelligent with their decision making ".
ALSO READ – TCS BECOMES INDIA'S FIRST $100 BILLION COMPANY