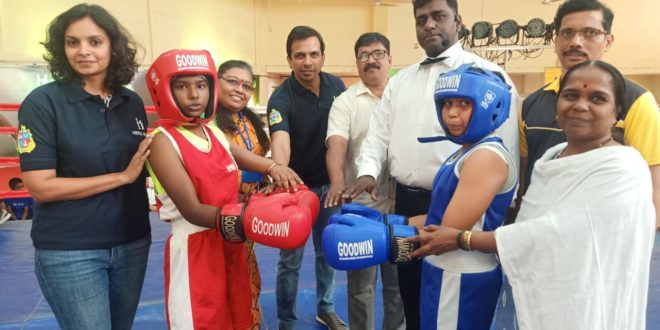 Mumbai, March 3: The "Heed India Cup 1" was organized at the Collector Colony School complex in conjunction with the Brihanmumbai Municipal Corporation, Mumbai City Boxing Association and Heed India. The competition took place from February 1 to March 8.
Jignesh Barsara, trustee of the organization, said that five sports training is being started in five schools in Mumbai through the Heed India Institute. Out of these, Athletics, Kabaddi, Wrestling, Taekwondo and Boxing are taught in two Municipal and Private Aided schools in Mumbai. The institute is providing free training to nearly 3,000 children. In Lalbagh, the institute trains appropriate sports according to the practice of boxing in Kabaddi and Malwani. 
The institute works on health and education. Health and education are linked to sports in order to enhance the game. By practicing sports, children's health is good. Children will be less likely to miss school. Children will be educated.
Heid India trustees Jignesh Barsara, Vijayalakshmi, Hemant Aldangadi and Balakrishnan have organized the events. In the whole of Maharashtra, 3 students from different departments were selected for this competition. 
Six students from Mumbai were given the opportunity to play with these students. What are the competitions? How do you play in competitions? These competitions were organized to increase children's confidence, provide children with the opportunity to play with experienced players, and develop discipline. "We will prepare the best 3 players (4 boys and 4 girls) for the national tournament," said Jignesh, Trustee of the organization.
Competition Manager Mahesh Sakpal, Supervisor Rajan Jothadi, Assistant Supervisor Eknath Chavan and Draw Jury under the direction of Mulji Koli, Reena Mane, Prashant Sonawane, Mayur Helia, Rohit Dere, Jyoti Dhadse, Mohamed Syed, Ramnath Bhai Jawat Kamy Prashant Shetty. Seen.