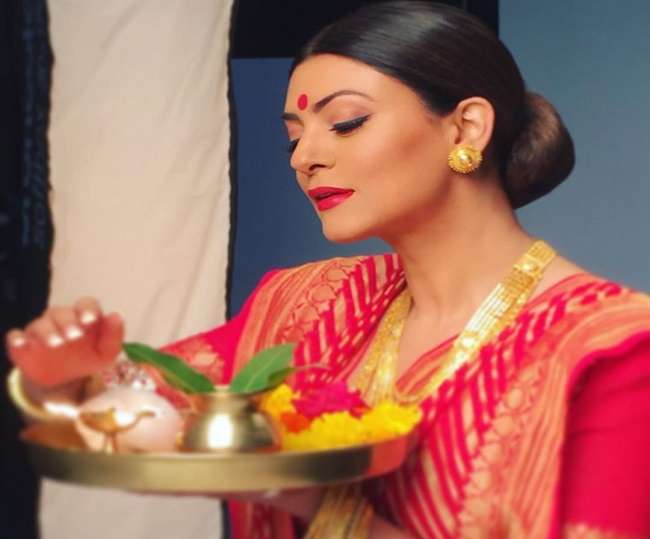 New Delhi, JNN. While the whole country is engaged in Navratri and Durga Puja on one hand, the film actresses are also very involved in this festival and are sharing pictures of their pandals or celebrations on social media. Actress Juhi Chawla insisted on celebrating eco-friendly Durga Puja. The pandal she went to was also an eco-friendly pandal, Juhi also praised her.
Sharing photos from the eco-friendly Pooja Pandal, Juhi wrote on Instagram, 'It was a magnificent pandal. The entire pandal is made of eco-friendly material, the traditional temple style was magnificent in which the dancers wore beautiful clothes, temple bells, Vedic Mantra everything was very tempting …! ' Nushrat Jahan, who came into the limelight due to MP and marriage, is sharing photos in a new look on each day of Navratri.
As per the rituals each day is dedicated to one form of Goddess and each form has a favorite color. Devotees also use the same color in the decoration. They even wear clothes of the same color to please the Goddess. Earlier Sushmita Sen shared a picture of herself in the Bengali traditional avatar of Mahalaya's day. This day was known in Bengal as the beginning of Navratri.
Sharing his photo, he wrote, 'Shubho Mahalaya to you and all your loved ones !!! Mother Durga's return home for me, always the victory of good over evil … courage over fear … love … symbolize hate !!! I pray that she will always be in our hearts. She is so richly represented as' Shakti '.'
At the same time, her sister-in-law and TV actress Charu Asopa also shared a picture of herself wearing a Bengali saree. Film actress Kajol was also seen celebrating the festival with her family. Navratri is a nine-day festival and began last Sunday.
The Durga Puja festival starts on Friday, the sixth day, when people go to pandals and pay respects to the mother.