Indian shooters continued their bona fide performance in the Common Wealth Games on Friday. The Common Wealth Games are being held in Gold Coast in Australia.
It was Tejaswini Sawant and Anjum Moudgil who led the shooters tally from the front both scoring with the former getting the gold medal in women's 50m Rifle and the latter scoring silver in the same event.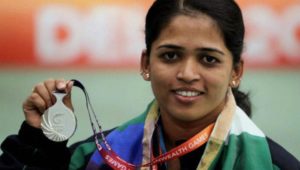 Although Singapore's Xiang Wei was in the lead initially, the two Indians came roaring back to take the lead and leave all others behind.
Tejaswini lead from the front and was especially amazing in the standing elimination round and with great consistency performed prolifically.
Anjum, on the other hand, was not as consistent as her colleague but still showed great resolve and discipline to achieve the second position in the event
Anjum ended with a score of 455.7 while Tejaswini broke all the Common Wealth games record by scoring a total of 457.9
The third position for the bronze medal was achieved by Scotland's Seonaid McIntosh who scored a decent 444.6. This fantastic performances by the ace shooters has catapulted India's medal tally to 33, which includes 15 gold, 8 silver, and 10 bronze.
On Thursday, Sushil Kumar, who is also a double Olympic medalist and Rahul Aware claimed gold while Babita Phogat settled for silver.This was the opening day of the 21st Commonwealth Games' wrestling competition.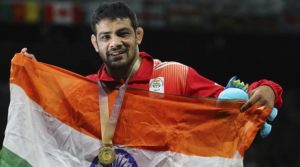 In what was only a minute and 20 seconds, Sushil defeated Johannes Botha of South Africa to claim his third successive gold medal in the games.
On the other hand Aware, won 15-7 and beat Canada's Steven Takahashi in a tight and exciting competition, where after being injured Rahul decided to carry on with over a minute of play left.
Aware finally scored Gold.
India is going strong in the Common Wealth games, but if the facilities for sportsmen are improved in the country our country has immense talent and potential to bring in many more medals and enhance the nations pride and standing, especially in sports.
ALSO READ –  INDIAN HOCKEY TEAM THROUGH TO SEMIFINALS