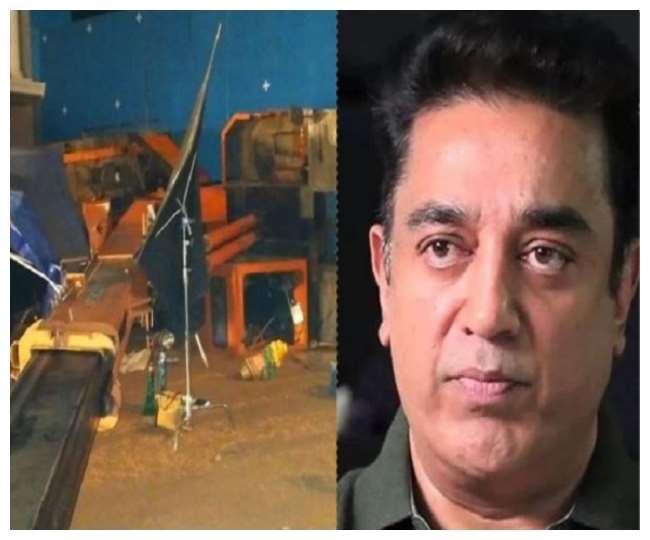 New Delhi South superstar Kamal Haasan has suffered a tragic accident on the set of the starrer film 'Indian 2'. Three including the assistant director have died in this accident. At the same time, 10 people have been injured. The accident happened late on Wednesday on the set of the film 'Indian 2' in Chennai. The accident occurred at the time when the film's set was under construction. Meanwhile, suddenly the crane fell. The news of this accident has been tweeted by news agency ANI. Everyone is in shock since the news came.
According to news agency ANI, Madhu (29) (director Shankar's personal director), Krishna (34) (assistant director) and a staffer Chandran (60) have died in the accident. Let me tell you that the incident happened near EVP Film City. Kamal Haasan has also posted information about the incident on social media.
Kamal Haasan wrote on Twitter, 'I have seen a lot of accidents but what happened today was the most dangerous. I lost three of my colleagues. The distress of his family members is many times greater than my own pain. I express my grief and condolences for this incident. The injured have been rushed to the nearest hospital where their treatment is going on. Upon discovering the accident, Kamal Haasan immediately reached the set of 'Indian 2' and helped the injured reach the hospital.
It is worth noting that Kamal Haasan is currently busy shooting for 'Indian 2' directed by S Shankar. In the film, he will be seen as a 90-year-old man. The film is a sequel to the hit film Indian. Talk that 'Indian 2' will be a film based on corruption and it will be shown fighting corruption. Music in the film will be given by Anirudh Ravichandra.