Omerta, releasing this Friday is based on the life of Omar Saeed Sheikh, a British terrorist of Pakistani descent, responsible for the 1994 kidnapping of four foreign tourists in Delhi and the 2002 kidnapping and murder of journalist Daniel Pearl in Pakistan among others.
There is a lot of buzz surrounding the movie and viewers are waiting in anticipation for the film to release because of the actor-director duo of Rajkummar Rao-Hansal and also because of the gripping plot of the film.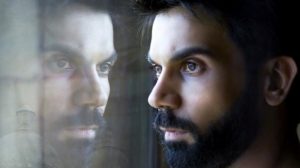 Hansal Mehta was quoted as saying "I wanted to explore evil as a human characteristic."
Rajkummar Rao was quoted as saying "My first as an anti-hero and exhausting as an actor. To feel the hate towards another human-being without any remorse can take quite a toll."
Also releasing this Friday are NanukiJaanu, High Jack and Beyond The Clouds, but these are the reasons why Omerta is the best from the rest:
Hansal Mehta is a filmmaker who is known for his content-driven films. He has come up with some amazing projects like shahid, Aligarh and Citylights all starring Rajkummar Rao. He is also known for his realistic cinema and is courageous in picking up the topics for his films
He is definitely the latest superstar of Bollywood, even though he refuses the title. He did a splendid role in NEWTON and is also known for his characters in Citylights, Subhash Chandra Bose and Shahid.
He admittedly gives his heart and soul to his films is a fantastic actor. He has played inspirational roles till now and it will be interesting to see him play an anti-hero, an evil character in this film
Being a gripping account of London born terrorist Omar Saeed SheikhOmreta will make a gripping watch. Speaking about the plot of the film, Hansal Mehta had said, "Omerta is a recounting of events. A film which will raise a lot of questions but would not offer any answers." He also intends to leave the viewers with the feelings of "awe, disgust, hate, surprise" with the movie
ALSO READ – AAMIR KHAN MAY CO-PRODUCE BIOPIC ON GULSHAN KUMAR