Deepika Padukone and Ranveer Singh might be tying the knot this year-end, according to reports. The couple who never publically announced their relationship, although their fondness for each other was evident will reportedly wed in a private ceremony this year.
Deepika and Ranveer's parents came together for the first time to discuss the nuptials, according to reports doing the rounds online.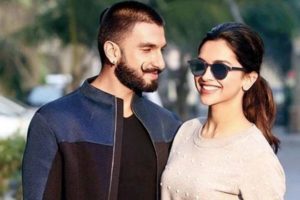 The wedding will reportedly be a private affair with only close friends and family in attendance as the couple exchange their vows according to Hindu rituals. However, if reports are to be believed, then the couple are yet to decide if they want a grand reception to follow.
Ranveer, Deepika and their families brought in the New Year together in the Maldives, where they received the blessings of their parents as was reported earlier this year, moreover both actors clearing their filming schedule for year-end doesn't seem to be a coincidence.
Both the actors have been highly appreciated in the much too controversial Padmavat. Both of them are not just excelling professionally, they are also going strong on their personal front.
Ranveer said his relationship with Deepika was that of mutual admiration. Ranveer also said that Deepika was a fine actor, but she thinks that Ranveer is just a ham, he added on a lighter note
The actor, known for his quirky fashion choices also added that Deepika is "awesome" and "there's a lot to learn from her as an artist."
Ranveer did not confirm his relationship status but said that he was blessed to have her in his life.
The rumors of Deepika Padukone and Ranveer Singh's impending marriage is going strong with each passing day and so is their alleged relationship. The two rumored love-birds were recently spotted walking hand-in-hand at the special screening of their controversial film 'Padmaavat'.
Fans and friends alike are all eyes and ears about the wedding and are anticipating a grand reception with excitement. Surely this is one match made in heaven
ALSO READ – FARHAN AKHTAR DELETES HIS FACEBOOK ACCOUNT