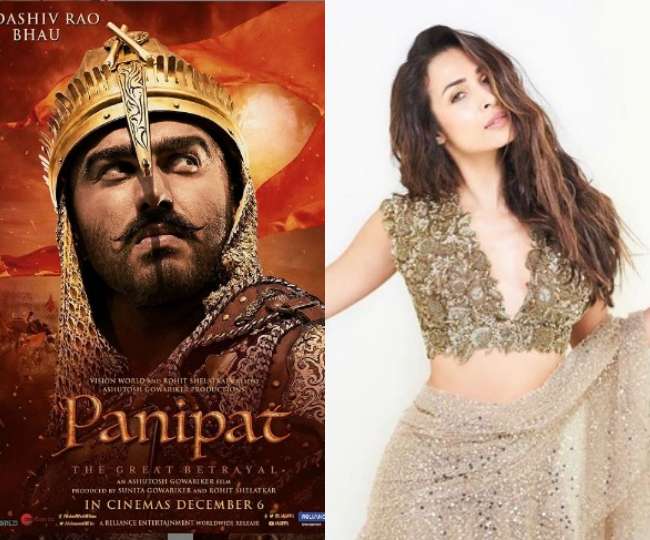 New Delhi Three posters of Arjun Kapoor and Sanjay Dutt's multi-starrer film 'Panipat' have been released today. First Sanjay Dutt's poster was released, then Kriti Sanon's and last Arjun Kapoor's. While Kriti is playing the role of 'Parvati Bai' in the film, Arjun Kapoor is playing the role of Sadashiv Rao Bhau and Sanjay Dutt Ahmed Shah Abdali. All three are quite busy in their look. Fans are also praising the look of the three.
Meanwhile, Arjun's girlfriend Malaika Arora has also praised him by commenting on his poster. Not only Malaika, but also more stars have been seen to be seen on Arjun's look. Malaika Arora commented, 'Ufffff fantastic'. Manish Paul also commented praising Arjun's look, Awweeesssssooommmmeeee. While Ranveer Singh wrote, 'Whuuuuuuoooooooaaaa!', Ayushmann Khurrana said, 'Wow'. Apart from these, Sanjay Kapoor, Nawab Shah, Aditi Hydari have also commented and praised Arjun's look.
What is the story of the film:
The story of this film is based on the third battle of Panipat, which took place on 14 January 1761 in Panipat between the Marathas and Sultan Ahmad Shah Abdali of Afghanistan. The film stars Arjun as Sadashiv Rao Bhau, nephew of Peshwa Bajirao I and commander-in-chief of the Maratha army. At the same time, Sanjay Dutt will be seen in the role of Afghan Sultan Ahmed Shah Abdali. Kriti Sanon will be seen in the role of Parvati Bai, the second wife of Sadashiv Rao. Zeenat Aman is played by Sakina Bai. The film will be released on 6 December.