In New Delhi on April 12th, Prime Minister Narendra Modi will observe a fast to protest against the disruption of Parliamentary proceedings by opposition parties
In what is being seen as an attempt to turn the tables on the Congress, BJP president Amit Shah will sit on a dharna in poll-bound Karnataka and BJP MPs across the nation will also join the PM in fasting after Congress held a symbolic fast at Rajghat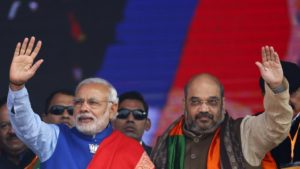 According to sources, Modi will follow his routine of meeting people and also officials and also of clearing files.
According to BJP spokesperson GVL Narasimha Rao, the idea of the fast was that of PM Modi's. This was his way of communicating to the country that the BJP was aware of the suffering they had to endure because of the problems in the Parliament.
He was quoted as saying "This is why all NDA MPs had also decided to forego their salaries for 23 days of the budget session of the Parliament,"
A day before the fast on Wednesday Prime Minister Modi will be addressing all MP's via the medium of Video Conferencing as they hold Samata Divas in their constituencies on the birth anniversary of JyotibaPhule.
According to the Congress, the Prime Ministers fast was a Farce and they added that Modi should apologize to the youth, Dalits and other weaker sections of society, who were disappointed because of his government.
Congress communications in-charge Randeep Singh Surjewala was quoted as saying "This is a farce of a fast by the Modi government. The BJP should apologize to the nation and hold a fast for disrupting Parliament for over 250 hours. The Lok Sabha, where the BJP has a majority, functioned for only one percent of its time and the Rajya Sabha functioned for six percent of its time,"
He also blamed the BJP Government of "disrespecting" and "degenerating" Parliament.
ALSO READ – IGI AMONGST THE 20 BUSIEST AIRPORT IN THE WORLD