After indigo and Jet Airways withdrew from the race to acquire Air India, four other major international airlines have shown interest in Air India's disinvestment.
The Airlines interested include British Airways, Lufthansa and Singapore Airlines and one more Gulf Airline.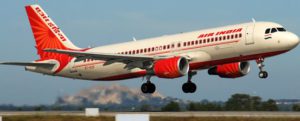 According to sources one of the Airlines already has a stake in an Indian Airline and going for Air India would mean divorcing its partner. The foreign carriers are also engaged in conversations with Indian business houses to meet the criterion of "substantial ownership and control".
According to Indian business laws, a foreign Airline can have a joint venture in India if it has an Indian partner with minimum 51 percent stake and effective control. All the foreign carriers will have to follow these rules and terms and conditions.
An anonymous source was quoted as saying "The four airlines are in active consultation with us. Among the Indian players, they are in touch with to form consortia is a medium-sized domestic airline. The head of an international airline is also eying the process with interest. A leading Indian industrial house is also in touch,"
The Indian government is offering to sell 76 percent stake in the national carrier, which is continuously making losses and will transfer its debt into a separate company.
Another Source was quoted as saying. "AI has about 13% domestic market share. IndiGo's combined domestic market share with AI would have crossed 50% that could have led to issues with Competition Commission of India. Even if the commission were to clear the deal, someone could have moved court on the ground that the combined entity is monopolistic. For this reason and the fact that IndiGo has a robust domestic presence, the airline was seeking to buy only the international arm of AI and AI Express,"
Some sovereign funds were also interested and were in touch will the government regarding the disinvestment
ALSO READ – FLIPKART LEANING TOWARDS WALMART AVOIDING AMAZON BID